Ryan's Home Theatre PC (HTPC)
---
I have entertained the idea for quite a while of getting some piece of equipment that would allow me to have access to my music collection in mp3 format from my receiver in the family room. I had found such things as Dell's player, the SlimP3, and Turtle Beach's player.
But, they were expensive, served only a single purpose, and were difficult to use from a distance (minus the slimp3).
So, I decided to put together a Home Theatre PC (HTPC) to meet this demand.
The overriding goals of this project were: it had to be quiet and use standard components that are upgradeable.
I found the DIGN case via searching for HTPC on google, and fell in love with it. Best of all, it's a standard ATX case, so I didn't have to compromise on power supply space, or PCI cards. I saw a lot of microATX cases that were nice, but they were very limiting on what other components could be added, as well as reduced ventilation.
I later found the case I would eventually buy, the Accent case, which my wife liked better esthetically. I saw one up on eBay, with the VFD display pre-installed, and snatched it up as fast as I could.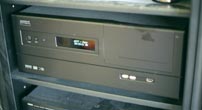 ---
The Case
The case is pretty well built. The front looks just like a stereo component. The external drive door is held closed by two small round magnets at the top corners of the door. The top and side shell is a bit thin, but the frame itself seems sturdy enough. The shell slides on from the rear, coming up against the front plate without any guide or groove. The hard drive cage is removeable via 2 screws. It has to be removed in order to put the screws in the right side of the 5 ¼ inch bays and the left side of the 3 ½ inch bays. The VFD display took up the lower 3 ½ drive bay.
For the front panel connections, it includes a USB cable from the front to individual pins on a motherboard, and the Firewire connection is actually a cable with the normal 6-pin connector to be plugged into an external connection-type plug (rather than a pin-based internal header).
It came with a rear exhaust 60mm fan, and one more unused 60mm fan spot next to it. The fan is not very quiet, but pushes a pretty good amount of air.
It did not come with a power supply (PSU), but it did have the VFD display installed already.
---
The Components
I bought a Nexus NX300 300 watt power supply, which is supposed to be one of the quietest non-modded power supplies available. I can attest to this! By shorting the green cable to a black ground (to power up without a motherboard plugged in), I couldn't even tell that it had powered up!
I bought a Papst 80mm fan to go on top of a Thermalright SLK-800a heatsink, two Adda 60mm fans to fill in the spots on the back of the case (these were vibration dampened, as they have a slight vibration sound when installed—missing when held in free air.), and the motherboard I bought had a small and noisy fan on it's northbridge chip.
I took the beige CD-RW drive from one of my other computers to get it up and running. I will replace it shortly with a black Pioneer 106 DVD-R/RW burner.
I bought a Seagate 120GB Barracuda V hard drive, with the Seashield and Fluid Dynamic Bearings. I can hear a slight spin up, and random access can be barely heard outside the case.
For the motherboard, I bought an AOpen AK79G Max motherboard, which is an nForce2-based motherboard. With the onboard video, it won't even have an AGP card in it. With the onboard ethernet and sound, I won't have those PCI cards in it.
The only PCI card in the box is a Hauppauge WinTV tuner card! (More on that later.)
A wireless Logitech Keyboard/Mouse combo was added.
512MB of PC2700 DDR memory and an Athlon 1800 XP processor round out the package.
---
Fans * SilenTek = Almost Silent
One reason I picked this motherboard is that it has what AOpen calls SilenTek. It allows the CPU fan and Fan2 to have their voltages controlled by software, based upon CPU and case temperatures, respectively.
I have the CPU fan running at 1000 RPM if the processor's temperature is below 40° C. Then, it slowly ramps up to the full 12V if the processor gets up to 45° C. In this way, the CPU's fan is inaudible 99% of the time. The only time I've seen the fan spin up was when we turned off the A/C in the house for an afertnoon and the ambient temperature went up 10-15 degrees.
It can also control one other fan header on the motherboard. I bought a 3-pin 'Y' cable so that the two 60mm case fans would also be dependant on ambient temperature. These spin at about 1500 RPM unless ambient case temperature goes over 35° C, which has only happened a few times.
The north bridge chip fan is run through a Zalman FanMate I, so it is spinning between 2500 and 3000 RPM (rather than 4500-5000 RPM), making it blend into the base noise volume.
What noise is audible comes from the 60mm exhaust fans and the northbridge fan. In the future, I plan on unplugging one of the 60mm fans to see what positive affect it has on the noise level and what negative affect it has on the internal ambient temperature.
Overall, I love AOpen's SilenTek software! From about a 3 foot circle, you can barely hear a hushed white-noise fan sound as if it was coming from another room. Outside of the 3 foot circle, you can't hear anything. Being one of my main goals, I felt very happy about this.
---
Assembly
It went together pretty easily. Although it's 6 inches tall, it still feels a bit cramped inside. Sliding the motherboard into place was hard, with a 1-pound HSF on the one side!
I took my time to fold the ATA cable for the optical drive under the motherboard, and twisty-tie all the cables from the power supply together and route them out of the way to maximize air flow.
---
Integration With My Stereo
I wish my Yamaha receiver had another video input with associated digital audio inputs, but the DVD input is the only one. For now, I have it routed through as VCR 2 with stereo left/right just going through analog RCA jacks and the video going into the receiver via an S-Video cable.
For some reason, the Hauppauge TV Tuner card has some kind of an echo chamber type audio effect going on. Also, the S-Video out on the motherboard doesn't seem to have a good dynamic range on the color. The white is flared out and it can't quite do solid black. But, it's also going into a 15-year-old 20" JVC TV at the moment. Maybe it just can't handle a digitally generated image.
---
General Use
It's pretty daunting for a babysitter to even consider doing anything with. We just say, "Ignore that for now," which they do.
---
PVR Software
I've tried WinDVR v2x (in my own computer before the HTPC was finished). It was fine on a CRT, but impossible to use on a TV's low resolution output. I've stayed with Showshifter so far. I just wish that it could integrate the EPG features into it (so that a show's title was displayed when you change the channel, for example).
---
Remote Control
The Hauppauge TV card came with a remote control and a small Infrared sensor that I placed in the side of the VFD window. This has been the best part of the whole system. Their software lets you map the remote control's buttons to different commands based on the active program. So play in winamp plays the song, while play in Showshifter plays a video file. It's really made the computer feel more like a stereo component.
---
Final Thoughts
Although a HTPC is not for every person, my family has enjoyed it quite a bit. By hand-picking every component that went into it to be as quiet as possible, the noise added to the room was pleasantly minimal.