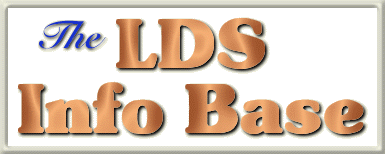 This site is devoted to infobases of LDS-related material that you can download and view with the Folio Views v3.1 software. I am a member of The Church of Jesus Christ of Latter-day Saints, and the material that will appear here will be beneficial to other members of the LDS Church. This will hopefully be a great resource for Institute and Seminary teachers, as well as students of the Gospel in general.

---
The files that are available at this site are Folio infobases. Some are in Folio v3 format, while others are in Folio v4 format. That means, you need the Folio Views v3.1x (or greater) software to open and search the v3 files, and Folio Views v4.x to open and search the v4 files. Folio Views was available on both the PC and the Mac (as version 3.0). You can't use a text editor like notepad to open these files. If you don't have the Views software, download a 30 day trial of the Folio v3 software which contains the necessary viewer program, bviews.exe. The Infobases Basic Library ('95 edition), their LDS Collectors Library ('95 or '97 editions), Deseret Book Reference Libraries ($49.95), as well as the GospelWorks CDs all use the Folio v3.1 software to make their products, are can open the v3.1 infobases from this site.
As for the v4 infobases, all of the files are compatible with the Church's Magazine CD-ROM (which uses Folio Views v4). But, GospeLink '01 can't open them. [If that link doesn't work, just search for 'magazines 1971' on their basic search form.]
If you get the error message: "bound to another server," that implies that the version of Folio Views that you have can't open either bound 3.1x infobases, or unbound 4.x infobases.
As always, the user assumes any liability associated with downloading these files. There are no guarantees or "warrantees" on any of these files. The content is assumed to be in the public domain. The .exe files are self-extracting zip files, and you just need to "run" them. Note: These infobases were created at a screen resolution of 1024x768. Some changes might be required to view them correctly at lower resolutions.
I am in the process of making some affordable commercial products with Folio Bound Views 4.6. Please watch my new site, Data Prospecting for their release.
---