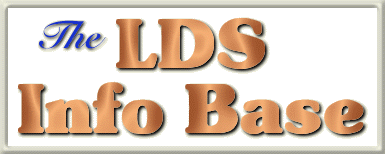 Welcome to The LDS Info Base: the largest repository of LDS-related content on the internet. It is stored in Folio Infobase format, which is a free-form database which can contain text, images, and other data.
I have started a commercial company with a friend called Data Prospecting. Our product prices should be fairly low (in the $20 range), and include Folio Views v4.6.0.10. Unfortunately, I can only include support to open Bound infobases with these products. In order to open unbound infobases (such as the 4.x ones on this website), can only be opened with the full Folio Views, purchased from Folio partners, such as The Fien Group or Performance Techonologies, Inc., for $150.
A note on the newer versions of Folio Views: Fast Search released a newer v4.7 that adds some new features, but it changed the basic .nfo file format for it too. This means that Views v4.7 can open any 4.x infobase, but only 4.7 can open a .nfo file created with Folio Views 4.7.
A note on Windows XP and Folio Views: Any version of Folio Views below v4.3.x is not fully compatible with Windows XP. There are many different ways that this incompatibility is displayed. If you are using Windows XP, I suggest you acquire a newer version of Folio Views. For slow startup times in WinXP, try this page for information. I've heard it does work if you disable the "system restore" feature.
For a good history of Folio Views' releases, see the Wikipedia page for Folio Corporation.
This is an ongoing project, and I am always working on two to three different infobases at any given time. If you do an infobase that you could share with everyone, or if you have suggestions and/or materials for infobases that I should do, or if you have any questions or comments, let me know.

This site is not affiliated with the now-defunct Infobases.
---
This page is maintained by Ryan Henrie
Created September 1, 1996

Disclaimer